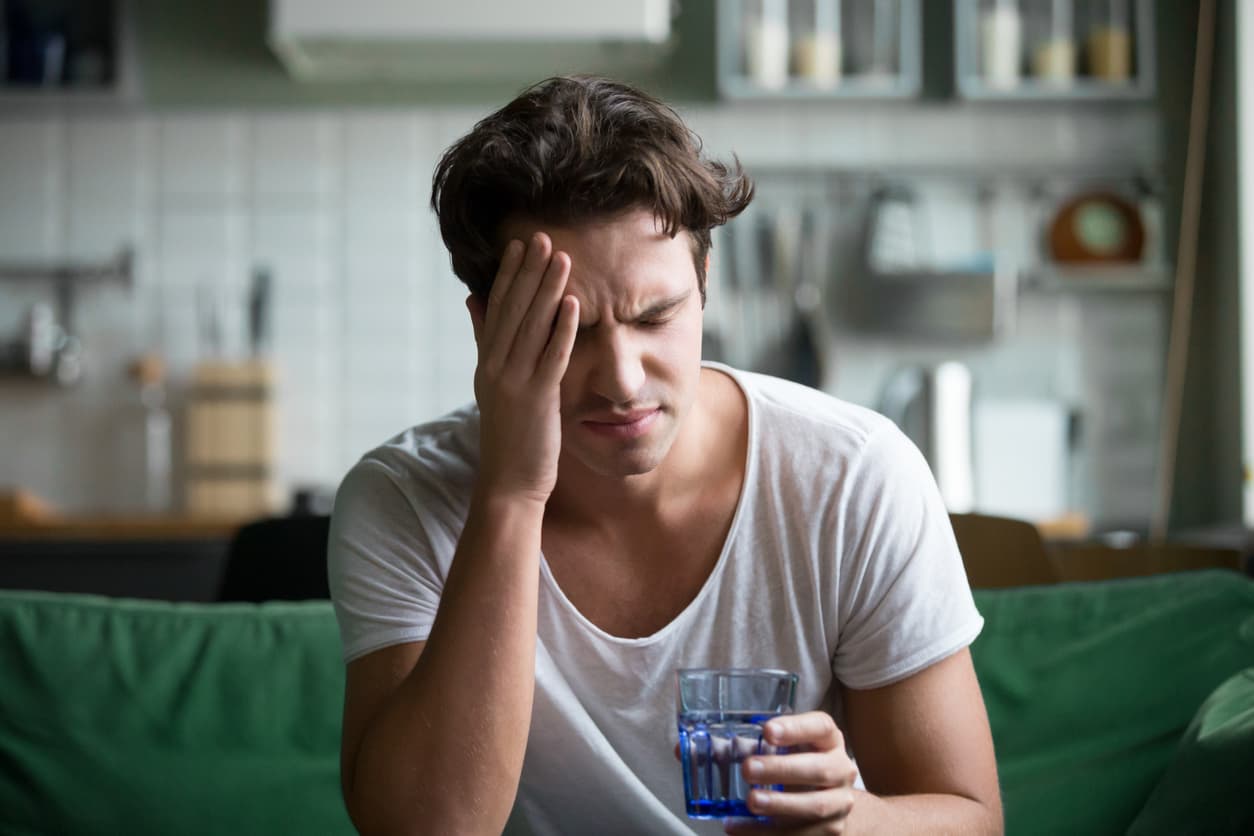 Long-term substance misuse can lead to the brain and body coming to expect and rely on the chemicals supplied by drugs and alcohol. These can affect the way you process pleasure and reward but can also have other effects.
Alcohol is a depressant, for example, and your body can attempt to counteract its effects by producing more 'stimulant' type chemicals. When the alcohol is suddenly removed, you can go into a type of overload and experience a range of psychological and physical withdrawal symptoms such as increased heart rate and palpitations to seizures at the most sever end of the spectrum.
Common Withdrawal Symptoms
Withdrawal symptoms can vary widely depending on the substance involved and the length and heaviness of usage, among other factors. Some people may experience severe withdrawal symptoms while other people with a similar substance history might experience limited symptoms.
Some physical withdrawal symptoms common to different substances could include:
• Nausea and sickness
• Stomach upset
• Aches and pain
• Fever and/or chills
• Fatigue and exhaustion
• Vivid dreams and nightmares
• Flu-like symptoms
• Headaches
• Palpitations
• Excessive sweating
• Shaking and shivering
Common psychological symptoms could include:
• Depression
• Anxiety
• Paranoia
• Insomnia
• Panic attacks
• Confusion
• Irritability and mood swings
• Difficulty focusing or concentrating
• Intense cravings for the substance
Some more severe symptoms, which may need medical attention, could include extreme confusion, uncontrolled tremors ('the shakes'), extremes in elevated heart rate and body temperature, hallucinations and seizures. These types of withdrawal symptoms are quite rare but can be extremely serious.
The 5 Best Ways to Deal with Withdrawal Symptoms
While everyone's experience of withdrawal will be different, there are some general techniques and things you can do to help get through the process. These include:
Attend a medically supervised detox
Withdrawal symptoms can be very unpleasant and potentially dangerous. As mentioned above, some forms of withdrawal such as delirium tremens can even be life-threatening.
Most people do not experience anything quite so severe but undergoing detox in a medically supervised setting like rehab or a dedicated detox clinic can make the whole process both easier and safer to get through.
You will have medical supervision and the potential for medical intervention if you do start to experience more severe physical effects. You may also be offered psychological support for withdrawal symptoms affecting the mind as well as the body. There are also prescription medications that can help with some aspects of withdrawal symptoms and cravings. These will be prescribed where appropriate during medical detox.
Exercise and eat healthily
You might not particularly feel like doing it while you are in the grip of withdrawal symptoms, but exercise can really help you to get through this difficult time. Exercise releases endorphins in the brain, which can help restore the chemical balance that may have been thrown completely out by years of substance misuse, as well as detoxification itself.
Exercise can also reduce stress, improve self-esteem and help you to sleep and relax. Studies have shown that regular exercise can help people in recovery to avoid relapse and can even help to reduce cravings(1). It's important not to overdo things though. If you are in recovery after prolonged substance misuse, you should undergo a medical assessment to make sure any exercise you do is suitable.
Nutrition is a key part of most rehab programmes and for good reason. Eating a healthy diet can help you to maintain a healthier overall lifestyle and start to undo some of the damage you might have inflicted on yourself during your substance misuse. Dehydration can also be common during withdrawal so it's also important to drink plenty of water – which is a good habit to develop and take with you.
Try to relax
Again, this might be easier said than done but there are a number of techniques you can use to help you relax during this period. Many rehabs will provide what some may think of as 'complementary' or 'alternative' therapies such as relaxation techniques, sleep therapy, meditation and mindfulness.
In reality, all of these can be extremely valuable as you struggle with cravings and withdrawal symptoms. Getting enough quality sleep is vital to health and well-being at the best of times but is particularly important when you are going through withdrawal.
Withdrawal fatigue can be exhausting so use sleep techniques such as setting a regular schedule, using relaxation techniques and avoiding screens (computers, phones, TV etc) before bedtime. If you are properly rested, you may be able to think more clearly and control cravings and mood swings that are often a part of withdrawal.
Get support
No matter what you do, there are likely to be times when you feel overwhelmed or unable to cope. Having support in place can really help you to get through difficult times. This support can take different forms.
If you are lucky enough to have a support network of family members, friends, partners or other people close to you, this can be very valuable. If you are going through withdrawal in rehab, of course, you will have the expert support of your recovery team, as well as the support of others going through their own recovery journeys via group therapy and general social contact.
Rehab programmes will also provide an aftercare programme, which can offer you vital support when you need it in the weeks and months after you leave. There are also numerous charities and organisations such as Alcoholics Anonymous and Narcotics Anonymous that can provide not only support but also an understanding of what you are going through that even well-meaning friends and family members might not be able to provide.
Keep busy
Many recovering addicts struggle with boredom and dwelling on withdrawal symptoms can also give them more power.
Finding new, stimulating interests and expanding your social circle beyond old drinking buddies and fellow drug users can help to prevent relapse and keep withdrawal symptoms at bay. Appropriate exercise can be a great distraction, as well as improving your health, whether this takes the form of organised sport, trips to the gym or simply going for a walk.
You may want to get creative with art or music or take up a hobby you've always fancied. Try to make it something you enjoy but don't pressure yourself – sometimes simply relaxing and taking it easy is the best therapy.
Posted on Friday, August 26th, 2022 at 1:37 pm in Addiction, Latest News.